For Immediate Release
GLYNCO, Ga. - On July 13, 2022, Deputy Secretary of Homeland Security John Tien hosted an awards ceremony at the Federal Law Enforcement Training Centers (FLETC) at Glynco, Georgia, to recognize employees for their outstanding contributions.
FLETC Director Thomas J. Walters officiated the ceremony, where teams and over 30 employees received a Secretary's Award.
"There is no higher calling than public service. The personnel throughout our Department give so much of themselves to keep our communities safe and to better the lives of others. The individuals we recognize today exemplify the best of our Department and the best of public service," said Department of Homeland Security Secretary Alejandro N. Mayorkas. "I am grateful for their service to our nation and proud to recognize their extraordinary accomplishments."
"I am proud to recognize the significant contributions of DHS employees who have gone above and beyond the call of duty to respond in extraordinary ways to the challenges of protecting the homeland," said Deputy Secretary Tien. "Their hard work is exemplary of the DHS workforce's commitment to keeping our nation safe."
The DHS Secretary's Award is an annual program that recognizes the extraordinary individual and collective achievements of the workforce.  Eight award categories recognize achievements spanning the previous year. This year, DHS will hold several ceremonies across the country, honoring nearly 900 employees.  
One honor is the Secretary's Award for Valor, which was presented to HSI Special Agent Stephen 'Daniel'Southerland for the actions he took to save a mother and child during a potential carjacking in Georgia. A native of Charleston, South Carolina, with nine years of experience as a state trooper, Southerland found the recognition humbling. "All the training I had acquired over the years just kicked in and what I did was just a natural reaction," said Southerland.
A team award was presented for the Secretary's Exceptional Service Gold Medal Award to the USCIS-HHS Unaccompanied Child Virtual Case Management Team. On hand to receive it was Preston Mika, who had driven in from Orlando, Florida, just an hour before the ceremony. Mika and the other eight team members spearheaded efforts in resettlement and reuniting over 11,000 children with their parents or sponsors from the Southwest border. "This is a great honor," said Mika. "For me personally, I owe America everything."
DHS Secretary Mayorkas is committed to creating a culture of recognition, engagement, and robust communication at the Department.  One of his key priorities is to champion the workforce and transform the employee experience.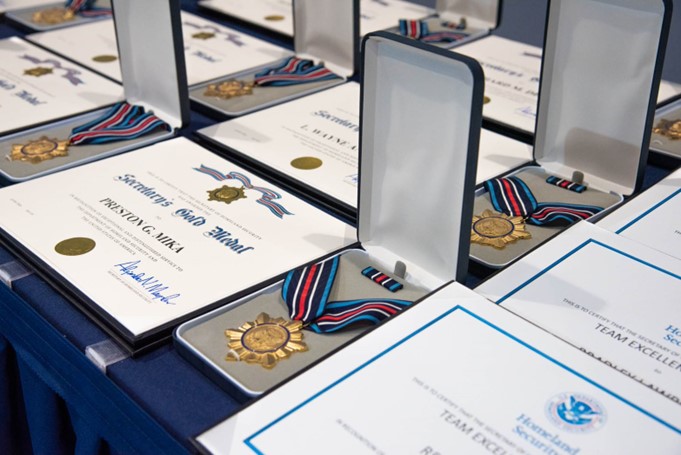 Deputy Secretary of Homeland Security John Tein, presented the Secretary's Exceptional Service Gold Medal Award to teams and employees in recognition of their outstanding contributions on July 13, 2022, at Glynco, Georgia. (FLETC OPA/Mindy Vu)
###
---
Federal Law Enforcement Training Centers
Office of Public Affairs
Contact: 912-267-2447