For Immediate Release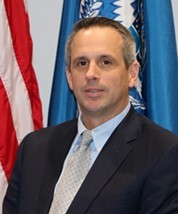 GLYNCO, Ga. – The Federal Law Enforcement Training Centers (FLETC) is proud to announce the selection of Manfred F. Harpole as the new Assistant Director for Core Training Operations Directorate (CTO).
Since March 2020, Harpole has served as the Deputy Assistant Director for CTO, and has served as acting Assistant Director, CTO since June 2020. In both of these roles, Harpole has provided critical guidance and oversight to FLETC core training operations and resumption of training during the COVID-19 pandemic.
Prior to joining FLETC, Harpole served as Executive Director of the Transportation Security Administration (TSA) Office of Law Enforcement (OLE) Federal Air Marshal Service (FAMS) Flight Operations Directorate. In this role, he maintained executive oversight of the Transportation Security Operations Center, National Capital Region Coordination Center, Law Enforcement Information Coordination Section, and Security Assessments Section. He was also responsible for FAMS enterprise-wide scheduling and operations through the Systems Operation Control Section.
Prior to leading flight operations, Harpole served as the Director of TSA's Training Centers Division delivering law enforcement, security operations, and canine training at the TSA Academy, TSA Training Center and TSA Canine Training Center. He also managed the Federal Flight Deck Officer Program.
Harpole previously served as the Supervisory Air Marshal in Charge (SAC) of the Seattle FAMS Field Office where he led Seattle based Federal Air Marshals and managed TSA's surface law enforcement operations in Alaska, Washington, Oregon and Idaho. He also completed assignments as SAC of the FAMS Security Services and Assessments Division and ASAC for Law Enforcement Culture in the FAMS Director's Office.
Harpole represented TSA as a staff member detailed to the United States Senate Committee on Commerce, Science and Transportation. In 2009, he served as the Acting TSA Representative to the United Kingdom, Ireland, Iceland, and Greenland. Harpole began his FAMS career in 2002, and he has flown air marshal missions from the Las Vegas and Washington Field Offices.
Harpole began his law enforcement career in 1987 with the Milwaukee, Wisconsin Police Department where he served as a Police Officer and Police Sergeant, completing multiple uniform and undercover assignments in the Patrol Bureau, Criminal Investigations Bureau-Gang Crimes Intelligence Division, and Special Operations Bureau-Intelligence Division.
Harpole holds a Bachelor of Arts in Economics summa cum laude from the University of New Mexico. He is a past member of the Federal Law Enforcement Training Accreditation Board of Directors.
"FLETC's mission sustains our Nation's frontline law enforcement personnel. I'm honored for the opportunity and proud to be a part of shaping the future of federal law enforcement training at this critical time," said Harpole. "I look forward to standing with the FLETC team and our partners in accomplishing this goal."  
FLETC, a component of the Department of Homeland Security, was established in 1970 to provide basic and advanced law enforcement training to federal agencies. For the past 50 years, the FLETC has fulfilled its mission of preparing the federal law enforcement community to safeguard the American people, our homeland, and our values.
###
---
Federal Law Enforcement Training Centers
Office of Public Affairs
Contact: 912-267-2447