For Immediate Release
GLYNCO, Ga. - The Federal Law Enforcement Training Centers (FLETC) provided an online Human Trafficking Awareness Training (HTAT) to nearly 100 members of the Missouri law enforcement community on Wednesday, July 22.

Human trafficking is a crime involving the use of force, fraud, or coercion to compel an individual into labor servitude or commercial sexual exploitation. It can happen in any community and victims can be any age, race, gender, or nationality.

In late 2009, at the request of Department of Homeland Security (DHS) leadership, FLETC began developing training on the signs and indicators of human trafficking. In 2015, FLETC incorporated human trafficking awareness training into its basic programs for all new federal law enforcement officers and agents. And in 2019, FLETC completed development of its introductory HTAT program.

Making this training available to local law enforcement agencies around the country takes a lot of teamwork and awareness, and state leaders are very involved in the process.

"As we continue our nationwide dialogue on police reform, it is important to underscore how critical it is to keep our communities safe," said U.S. Representative Vicky Hartzler of Missouri's 4th Congressional District. "The men and women who bravely serve our communities often grapple with some of the most horrendous issues facing us, including the sickening trafficking of women and children. While it is difficult to imagine these types of crimes occurring in Missouri, there were over 230 human trafficking cases reported in the state in 2019 alone. I want to extend my gratitude to the Federal Law Enforcement Training Centers for their leadership in putting this training together, to the panelists participating in the event today, and to each and every law enforcement officer who has raised their hand to defend people they don't know so future generations can live in peace."

"I am grateful to be able to work with the Federal Law Enforcement Training Centers and experts from Missouri as we fight to end human trafficking and put a stop to the insidious violence that has harmed so many," added U.S. Representative Ann Wagner of Missouri's 2nd Congressional District. "Trafficking is far too often hidden in plain sight, and education and awareness like today's training can make all the difference in helping protect and rescue victims, hold perpetrators accountable, and prevent vulnerable populations from ever becoming victims in the first place."

The virtual HTAT program provides students an in-depth understanding of current indicators that law enforcement may observe in industries known for human trafficking. The training consists of case studies, videos, and student-centered learning activities to enhance the learning experience. The training is online, creating a safe and secure environment with built-in social distancing.

"We were able to use the current training environment to transition our Human Trafficking Awareness Training program into virtual delivery. The instructors, e-FLETC group and support staff who worked on getting this program onto our distance learning platform did a remarkable job," said FLETC Deputy Director William Fallon.

The training also included a facilitated panel of federal, state, and local human trafficking subject matter experts, including representatives from the Missouri U.S. Attorney's Office, DHS Homeland Security Investigations, FBI Human Trafficking Task Force, state and local prosecutors, and Non-Governmental Organizations. The goal is to introduce students to Missouri-based resources they can depend on to assist with suspected human trafficking cases.

"I applaud the Federal Law Enforcement Training Centers for advancing the Administration's priority of combating human trafficking," said Heather Fischer, special advisor for human trafficking on the Domestic Policy Council, Executive Office of the President. "FLETC's Human Trafficking Awareness Training program will enable federal, state, local, and tribal law enforcement to identify specific indicators of human trafficking and connect attendees with human trafficking experts in their respective area."

Since 2019, FLETC has provided export training programs to state, local and tribal law enforcement in New Mexico, South Dakota, Washington state, Nebraska, and New Jersey. Additional online training opportunities with law enforcement are scheduled in Los Angeles next month, and Massachusetts and Georgia later in the year.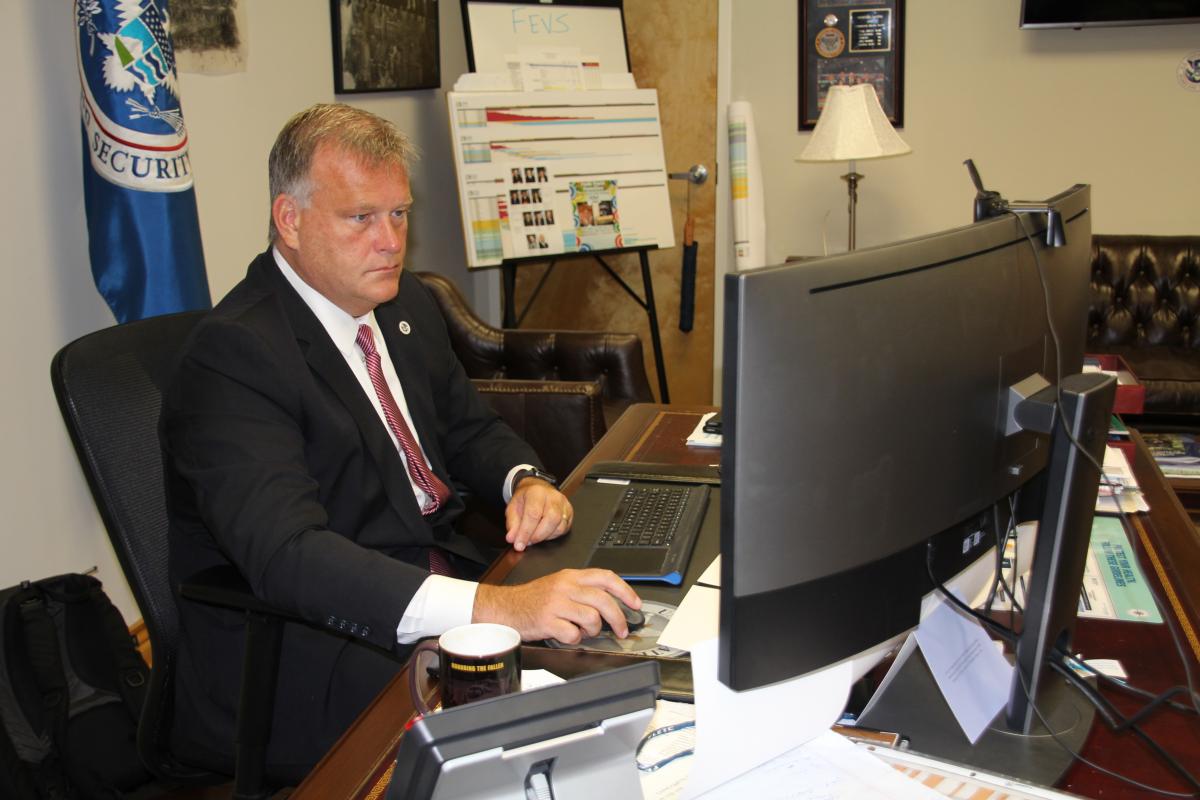 FLETC Deputy Director William Fallon prepares to give opening remarks to attendees of the virtual Human Trafficking Awareness Training program to members of the Missouri law enforcement community. (FLETC OPA/Rob Gwin)
###
---
Federal Law Enforcement Training Centers
Office of Public Affairs
Contact: 912-267-2447