For Immediate Release

GLYNCO, GEORGIA – Thomas J. Walters was sworn in as the sixth Director of the Federal Law Enforcement Training Centers (FLETC) in a ceremony at Glynco, Georgia, October 24, 2017. FLETC Deputy Director William Fallon administered the oath of office.
FLETC and Partner Organization staff members from the Glynco site and by video teleconference at sites located in Artesia, New Mexico; Charleston, South Carolina; Cheltenham, Maryland; Manhattan, Kansas; Orlando, Florida; and Washington, D.C. attended the event officially establishing FLETC's new leader.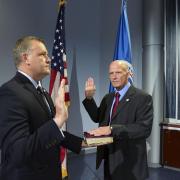 "What I would like to pledge to you is that I will demonstrate the qualities I wish to see in you," said Walters, speaking to the assembled audience. "We are one team, united in our commitment to public service and a safe and secure nation."
Emphasizing that the directorship of FLETC is his fourth tour of duty at the agency, having served at both Glynco and Artesia sites during his career with U.S. Customs and Border Protection, Walters said he was always impressed with the tremendous potential of FLETC.
"I told myself if I ever had the opportunity, I would help realize that potential and be part of it," he said.  I consider myself fortunate to have this opportunity to join you in this important work."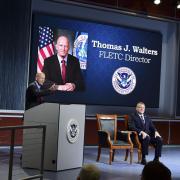 The Director asked that those in attendance to join him in reciting the oath of office as a reminder that everyone in the FLETC community has an important role to play in preparing law enforcement personnel to protect the homeland.
Immediately following the ceremony, he was able to meet many of those in attendance at a reception in his honor.
As the FLETC Director, Walters oversees all operations related to the development and delivery of collaborative law enforcement training for more than 95 federal partner organizations across four FLETC domestic training sites; for state, local, and tribal departments throughout the U.S.; and outside the Nation's borders through international training and capacity-building efforts.
Department of Homeland Security Acting Secretary Elaine Duke wrote, "We are honored to welcome Mr. Walters back to DHS. He is a dedicated public servant who led all aspects of training and professional development during the creation of Customs and Border Protection."
Prior to his current position, served for over 30 years with U.S. Customs and Border Protection (CBP). He began his career as a Border Patrol Agent in El Paso, Texas, in 1975, and went on to hold several leadership positions with CBP, including Associate Chief at U.S. Border Patrol National Headquarters; Chief of the U.S. Border Patrol Academy; Assistant Commissioner for the CBP Office of Training and Development; Director of the U.S. Border Patrol Communications Division; Acting CBP Assistant Commissioner for Public Affairs; and CBP Deputy Assistant Commissioner for Public Affairs.
Walters led CBP in adopting a new agency-wide approach to training that successfully integrated the training requirements for former Customs officers, Immigration officers, and Agriculture specialists into the CBP officer basic training program. He authored and attained approval for CBP's first Use of Force Policy document. Walters developed a robust, intranet based distance learning program, providing access to training for all 60,000 CBP employees. He led the initiative to design and build CBP's Harpers Ferry Advanced Training Center to support CBP-specific operations.
The New York native is a graduate of the State University of New York at Buffalo, and earned a master's degree in national security strategy from the National Defense University, National War College in Washington, D.C.
###
---
Federal Law Enforcement Training Centers
Protocol & Communications Office
Contact: 912-267-2447