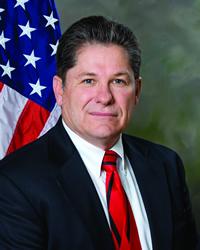 Glynco, GA – Federal Law Enforcement Training Center (FLETC)Director Connie L. Patrick named Joseph W. "Woody" Wright as Chief ofStaff and Assistant Director, Washington Operations Directorate. Wrightwill continue to serve as the Assistant Director for the Field TrainingDirectorate until a replacement is selected.
           "Wright has gained well-deserved respect from all levels of thefederal, as well as the state, local, rural, campus, tribal andterritorial law enforcement communities," noted Patrick. "His vast lawenforcement experience and outstanding leadership skills will benefitthe FLETC and the Department of Homeland Security in this newrole." 
           Wright has served as Assistant Director of the Field TrainingDirectorate since June 2011, where he directed and oversaw the FLETC'sthree field site training delivery points located in Charleston, S.C.,Cheltenham, Md., and Artesia, N.M., as well as the Office of State,Local, Rural, Tribal and Territorial Training. Previously, Wrightserved as the Site Director, Office of Artesia Operations, from 2002 to2011.
           Having served in law enforcement for more than 40 years, Wright beganhis career in 1970 as a part-time jailor/dispatcher for the SierraCounty Sheriff's Office in Truth or Consequences, N.M. He served in theUnited States Air Force as a Law Enforcement Specialist/NarcoticDetector Dog Handler and as a Patrol Officer/Investigator with theBreese Police Department in Illinois.
           Wright returned to New Mexico, served as a Deputy with the SierraCounty Sheriff's Office, and moved to Artesia to serve as an UndercoverNarcotics Agent, Patrol Officer and Detective for the Artesia PoliceDepartment. He joined the FLETC-Artesia staff as an instructor and waslater assigned as the Director of Law Enforcement Training for theBureau of Indian Affairs. He was selected as the Chief ofAdministration at the FLETC-Artesia, and subsequently the AssistantDirector of the FLETC-Artesia.
           Wright attended McKendree College in Lebanon, Ill., where he majored incriminal justice. He also attended McKinley College in Colorado wherehe studied business administration.
           The FLETC trains the majority of federal officers and agents in theUnited States. In addition to providing training for over 90 federalpartner organizations, FLETC also provides training to state, local,tribal and international police in selected advanced programs;graduates approximately 70,000 students annually and is the largest lawenforcement training organization in the country.
Headquartered on a 1600-acre campus at Glynco, near Brunswick,Ga., the FLETC operates facilities in Artesia, New Mexico; Charleston,South Carolina; and Cheltenham, Maryland. The FLETC also has oversightresponsibility on behalf of the Department of Homeland Security for theInternational Law Enforcement Academies at Gaborone, Botswana; andBangkok, Thailand.