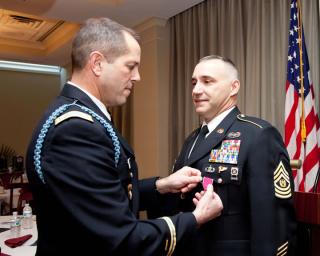 Federal Law Enforcement Training Center instructor Glenn Guy received the Legion of Merit award during a military award ceremony at the FLETC Glynco site on January 13, in the presence of more than 50 of his coworkers and military members from Fort Stewart's Warrior Transition Battalion.
The Legion of Merit is awarded to individuals who have distinguished themselves by exceptional meritorious conduct in the performance of outstanding services and achievements. The Legion of Merit is sixth in the order of precedence of U.S. military decorations.
Presenting the award was Lt. Col. Zachary Doser, Nevada Guard 17th Sustainment Brigade deputy commander. Doser served as the 1st Squadron, 221st Cavalry Embedded Team Commander in Afghanistan in 2009 and Guy as his senior enlisted advisor.  Command Sgt. Major James Richardson, current 1/221 Cavalry Regiment traveled to the FLETC Headquarters to officiate the ceremony.
Retired Command Sgt. Major Guy accepted the prestigious award for his distinguished service with the Nevada Army National Guard's 1st Cavalry Regiment during his Afghanistan deployment. During the ceremony, Guy's wife Becky received a plaque for her support during the retiree's 28 years of military service to our country.
The FLETC Director Connie Patrick said in her remarks, "Glenn's value as a role model is evidenced through the service of his son, Private Shayler Guy, who is currently serving in Afghanistan. We share the same mission and commitment to protect our homeland – we as the trainers and supporters of those who protect and serve, and our military who are on the frontlines. This award represents the tremendous accomplishments by Glenn in service to our country and represents an unwavering determination to give back as he trains and inspires our future leaders."