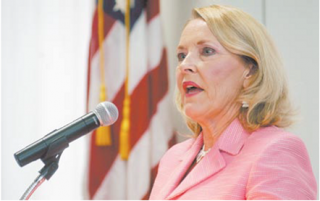 6/26/2013
By MICHAEL HALL The Brunswick News
The Federal Law Enforcement Training Center expects the facility inGlynn County to continue to thrive despite the most recent string offederal spending cuts.
Connie Patrick told the Brunswick-Golden Isles Chamber of Commercemembership luncheon Tuesday the training center has the capacity toremain the principal training facility for all federal law enforcementprograms under the Homeland Security Department.
The center could also begin seeing more trainees from the Department ofJustice and the Department of State, Patrick said during a speech atthe center.
Since 2001, more than $672 million has been spent on renovating orconstructing new buildings to use for teaching agents of the more than80 agencies that train there, Patrick said.
"It was our vision that we would never have to say 'no' when asked ifwe had the capacity to train," Patrick said. "The answer is, 'yes.' Wehave the capacity. We can do it."
That space may be needed soon if Congress passes an immigration reformbill that could add about 20,000 new U.S. Customs and Border Patrolagents, roughly doubling the size of the agency.
Patrick said investments made during the past 12 years have built aninfrastructure that is ready for more students. "Whatever happens,whatever they decide, all the new law enforcement personnel will comethrough FLETC," Patrick said.
If the immigration bill is passed and doubles the agency's size, manyof the new trainees will go through the FLETC facility at Artesia, N.M.Others would be sent to the Glynn County campus.
That will be key in maintaining the annual $330 million economic impactthe training center has on Glynn County, an impact that could change asthe current round of federal spending cuts has started to affectcontracts the facility has with private companies.
Patrick said she and her administrative staff are working to ensurethose contracts are reworked to fit the new budget outlook and have aminimal impact on jobs here. "We have done everything we can to protectjobs," she said.
Following Patrick's address, chamber members toured a new trainingfacility on the campus designed to simulate city and suburban areas inwhich federal law enforcement officers could find themselves in thefield.
The area is known as Danis City, named for Navy Cmdr. Anthony L. Danis,first commanding officer of the first airship squadron stationed atwhat was Naval Air Station Glynco, now the site of FLETC.
"Like the blimps from Glynco Naval Air Station, the Danis City complexwill also support national security by providing an even more realisticrange of environments where students will test their knowledge of thetactics they have learned," Patrick said.
The mock urban area includes a federal building, shops, apartments anda use-of-force complex. The mini-shopping area includes a cafe, liquorstore, bank, post office and grocery store, while the suburban portionsinclude seven homes, a trailer park, mini-storage, tavern and atactical training facility.
* Reporter Michael Hall writes about public safety, environment andother local topics. Contact him at mhall@thebrunswicknews.com,on Facebook or at 265-8320, ext. 320.