For Immediate Release
GLYNCO, Ga. – The Federal Law Enforcement Training Centers (FLETC) presented a four-day state, local, tribal, and federal law enforcement training consortium from Nov. 17 through Nov. 20, 2020, spearheaded by the Physical Techniques Division (PTD), Core Training Operations Directorate.
Over 2,000 law enforcement officers and agents from across the Nation enrolled in the e-FLETC virtual training platform to delve into four physical technique pillars of control tactics, force options, fitness, and officer resiliency.
"We wanted to take actual law enforcement encounters, a cop story, and have them share that story—and immediately following that, we wanted to have subject matter experts explain the 'why' behind it," shares Senior Instructor Victor Zuege, Physical Techniques Division.
Screenshot of Welcoming Remarks by Director Walters. (FLETC OPA/ Lori Flynn)
The PTD consortium is a unique training opportunity that builds upon personal accounts and law enforcement physical techniques training with the science, research, and academics to decipher the reasoning behind these physical encounters.
A 'Truth Behind the Training' PTD consortium workgroup takes place on Dec. 2, with consortium guest speakers and participants in the training. 
FLETC Deputy Director William Fallon explains, "These workgroups will allow direct interaction with presenters observed this week, which will lead us to a thoughtful and deliberate approach to curriculum development.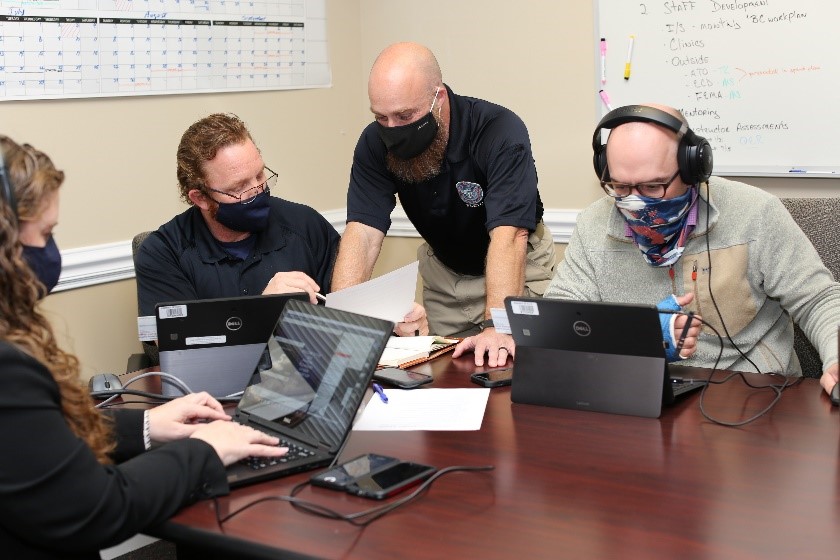 FLETC PTD and e-FLETC personnel prepare to kick-off day two and interact with participants of the Physical Techniques Division inaugural virtual training consortium:  The Truth Behind the Training.  State, local, tribal, and federal law enforcement agents and officers receive training on control tactics, fitness, force options, and officer resiliency. (FLETC OPA/ Lori Flynn)
"FLETC has a lot to offer and we have taken advantage of this COVID environment to transition many training programs to virtual delivery. That has allowed us to expand our reach around the country, in fact around the world," added Fallon.
###
FLETC, a component of the Department of Homeland Security, was established in 1970 to provide basic and advanced law enforcement training to federal agencies. For the past 50 years, the FLETC has fulfilled its mission of preparing the federal law enforcement community to safeguard the American people, our homeland, and our values.
---
Federal Law Enforcement Training Centers
Office of Public Affairs
Contact: 912-267-2447