For Immediate Release

GLYNCO, GA – "The families of our heroes sacrifice a great deal. Nobody serves alone; when one serves, the family serves."
Yesterday, Department of Homeland Security Secretary, Alejandro N. Mayorkas extended his deepest sympathy at the annual Federal Law Enforcement Training Centers (FLETC) Graduates Memorial Ceremony.
FLETC Director Thomas J. Walters shared the sentiment with an impactful opening statement.
"We are here today, united in common company and common cause, to reflect on those too many law enforcement professionals whose commitment to serve and to protect others was, in every sense of the word – absolute."
The annual event honors FLETC basic training graduates who died during their law enforcement careers in the line of duty. This year's ceremony paid homage to 17 FLETC graduates from the United States Capitol Police; United States Customs and Border Protection's Office of Field Operations, Air and Marine Operations, and U.S. Border Patrol; United States Immigration and Customs Enforcement's Homeland Security Investigations, and Enforcement and Removal Operations; and the Federal Bureau of Investigation Police.
"The connective tissue that unites us with the honored souls represented here is that virtually all who have carried the badge have come to the edge of the valley of death more than once, in situations that were very, very similar to those that took the lives of our brother and sister officers," Walters said.
This solemn occasion united family members, friends, colleagues, classmates, and staff to reflect on the new heroes etched in stone.
"To every family member of our fallen, I extend our heartfelt thank you. This nation owes you a debt of gratitude that can never be repaid," said Deputy Director Kai Munshi.
With a special message to the families and friends of the fallen, Deputy Director Munshi said, "What we do offer is a solemn vow never to forget. More importantly, we promise never to stop sharing the stories of your husbands and wives, your sons and daughters, grandsons and granddaughters, nieces, nephews, and best friends."
The original Memorial was a three-paneled wall engraved with the names of 23 FLETC basic training graduates who made the ultimate sacrifice. Today, the loss of honorees now totals 326 names, including the 17 graduates inscribed on the Memorial this year.
A component of the U.S. Department of Homeland Security, FLETC provides basic and career-long training to law enforcement professionals to help them fulfill their responsibilities safely and proficiently. Through strategic partnerships, FLETC prepares the federal law enforcement community to safeguard the American people, property, and institutions.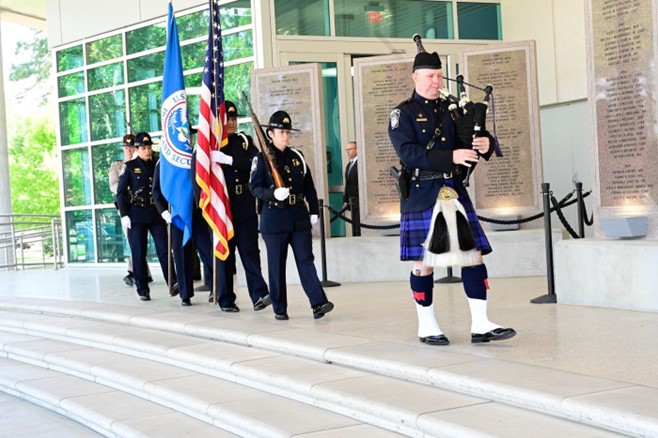 Office of Field Operations Customs and Border Protection Honor Guard march by the FLETC Graduates Memorial in Glynco, GA, May 4, 2023. (Photo by David Tucker, FLETC/OPA) 
###
---
Federal Law Enforcement Training Centers
Office of Public Affairs
Contact: 912-267-2447