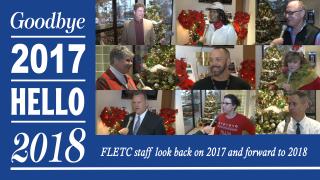 Dear Colleagues,
Shortly before the holidays, we asked some of our FLETC Family to share their personal and professional perspectives on 2017 and ambitions for 2018.  I appreciate their views, and I think you will too.
As we close the door on a year of transition, from the Presidential Administration to our own FLETC leadership, I know you share my enthusiasm for all we will do together in service to our nation's law enforcement in the coming year.   
We expect this to be a busy year at FLETC, with high training throughput for many of our partners across the law enforcement community. This coming year, the FLETC community will join together in a figurative "barn-raising" as we work together to build a new, multiyear strategic plan.  Together, we will document FLETC's course for the next four to five years.   
My thanks to those who took the time to make their voices heard, and to our Protocol and Communications Office and Multimedia Division team who developed the video. 
Thomas J. Walters
Director