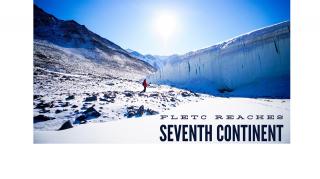 Centralized Training Management Directorate Division Chief Steve Schneider participated in a law enforcement review in Antarctica at the invitation of the National Science Foundation (NSF) Jan. 28 to Feb. 10, 2018.
"The National Science Foundation has a small, but significant need for law enforcement training," said Schneider, who works at FLETC's Cheltenham, Maryland site, "and our primary purpose was to interview support personnel at the facility to understand their direct law enforcement needs."
During his two-week experience at McMurdo Station, the logistics hub of the U.S. Antarctic Program on the coast of the Ross Sea, Schneider spent time gaining an understanding Antarctica's unique culture and community.
In addition to FLETC's participation, review team members consisted of the Chief, Criminal Division of the U.S. Attorney for the District of Hawaii; Chief Inspector and Inspector, U.S. Marshals Service; Chief Ranger, National Park Service; Director, Security Forces U.S. Air Force; Program Managers and Office of General Counsel, NSF. Schneider said the collaboration of participants gave him an "opportunity to engage with some of FLETC's key law enforcement counterparts."
The NSF coordinated the review based on recommendations from two Office of Inspector General audits regarding law enforcement functions in Antarctica. The remoteness of the continent, in addition to the special legal authorizations and jurisdictional status, present unique challenges for law enforcement activities on the ice. The team served to provide recommendations regarding operations, tools, techniques and training of the special deputies assigned to support the Antarctic mission.