News
GLYNCO, Ga. -- Law enforcement officers face a multitude of dangers daily, but a body of water can turn any situation into an extreme hazard instantly. The first few moments are crucial to survival as the weight of the uniform and gear, once serving to protect the officer, now becomes a threat.
The Federal Law Enforcement Training Centers' Marine Law Enforcement Training Program's (MLETP) sole purpose is training officers to combat fear and panic allowing for life-saving actions within the critical first few seconds.
Created from real-life experience, this program provides rigorous water safety courses to mentally prepare officers to survive an often-unfamiliar environment preventing injuries and losses in the field. It could be the deciding factor between life and death.
 "It is about keeping your wits about you … and surviving a situation rather than panicking," said  FLETC Driver and Marine Division Jeffrey McDonald, Marine Branch Chief.
It was these lessons that were key when Florida Fish and Wildlife Officer David Brady found himself injured and in water. An altercation during his normal patrol on the Florida waterway left him with two gunshot wounds and treading water. In an interview for a local news station on Feb. 20, 2018, Officer Brady said he didn't realize the extent of his injuries due to the trauma. "I just went into survival mode."
Physical Techniques Division Instructor Brian Nestler explained the importance of the training. "The first time a law enforcement officer experiences the fear of fighting for his or her life in the water shouldn't be when it's actually happening," said the American Red Cross Lifeguard Instructor trainer. "It should be when they are in the water with a trained professional."
These courses apply to all aspects of an officer's life, on or off-duty. For instance, when Air Interdiction Agent Joshua Axt saved a child from drowning and coordinated the rescue efforts once ashore. The St. Simons, Georgia, resident never thought he would be involved in a water rescue off-duty. His message is – take training seriously and always be prepared.
Past course material covered the basics, like creating floatation devices from clothing, staying afloat, and basic swimming skills. Since then the course list has grown expeditiously to provide training on swim assessments, hypothermia, survival strokes, Helicopter Emergency Egress Device (HEEDs), buddy rescue, vehicle egress, weapon and gear handling, and unexpected entry with aggressors in full gear.
"The water can be ruthless, violent and unforgiving," said Nestler. "Our job is to prepare law enforcement officers to survive in this unpredictable environment."
To find out more about MLETP, and other FLETC courses, visit www.fletc.gov/training.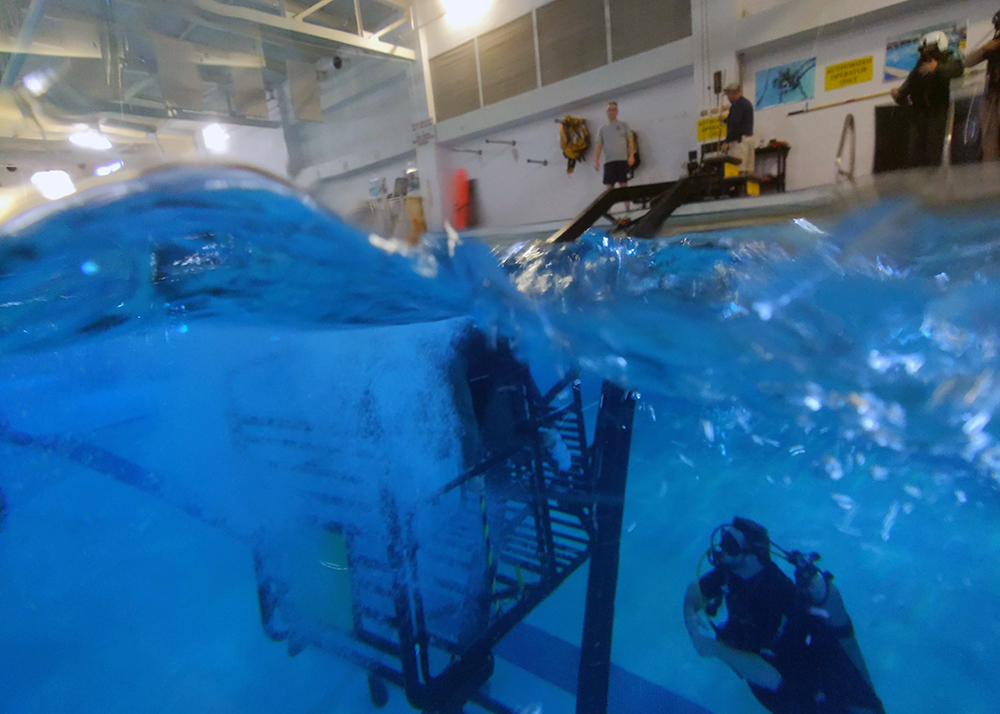 MTB trained professionals observe LEOs of the Customs and Border Protection Air and Marine Basic Training Program participate in the Underwater Egress Trainer (UWET), which provides LEOs the chance to experience a submerged emergency exit from a vehicle/cockpit, on Nov. 25, at Glynco, Ga. (FLETC-PCO/Brandon Spragins)
###
---
Federal Law Enforcement Training Centers
Protocol & Communications Office
Contact: 912-267-2447