For Immediate Release
GLYNCO, Georgia – The Federal Law Enforcement Training Centers (FLETC) held a candlelight vigil Monday, May 13, 2019, honoring FLETC graduates who lost their lives in the performance of duty while protecting the communities they serve. FLETC and Participating Organization staff and students attended the vigil.
Sadly, this year 12 names were engraved upon the FLETC Graduates Memorial, bringing the total to 237 since the establishment of FLETC in 1970. Those honored today were U.S. Customs and Border Protection Agent Christopher T. Bacon; U.S. Immigration and Customs Enforcement, Homeland Security Investigations Special Agents Timothy A. Ensley, Dennis P. McCarthy, Thomas M. Wischerth, Robert T. Williams, and Edward J. Smith; U.S. Marshals Service Deputy U.S. Marshals Christopher D. Hill and Chase S. White; U.S. Secret Service Special Agents Myles "Colin" Johnson and Nole Remagen; Bureau of Alcohol, Tobacco, Firearms, and Explosives Senior Special Agent Scott Ragsdale; and National Nuclear Security Administration's Office of Secure Transportation Agent Kristopher D. Youngberg.
FLETC Deputy Director William Fallon welcomed attendees to the annual vigil stating, "As we light our candles in remembrance of the fallen and as the candle slowly burns remember the sacrifices made each day by everyone in law enforcement."
"On behalf of FLETC, thank you for gathering here tonight in honor of our brothers and sisters who have made the ultimate sacrifice," added Fallon.
The vigil concluded with everyone in attendance singing "Amazing Grace" in front of the memorial.
For further information and a full listing of the honorees on the FLETC Graduates Memorial, visit FLETC Graduates Memorial | Federal Law Enforcement Training Centers.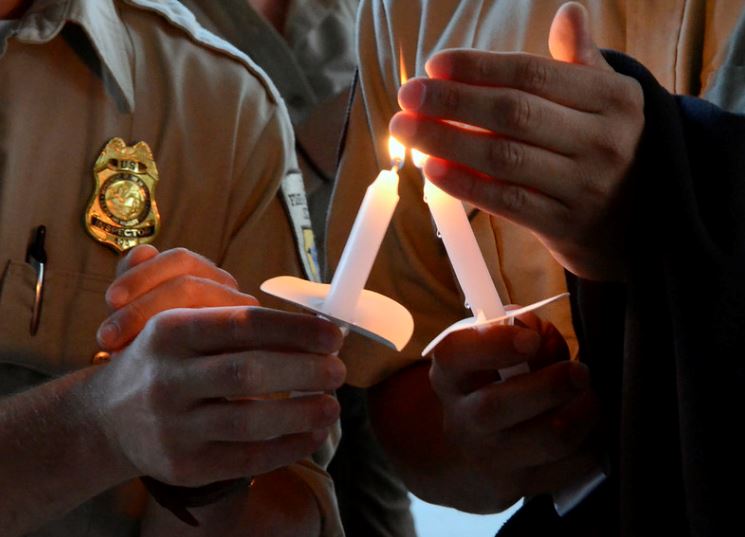 Students, participating organizations and staff took part in the second annual Federal Law Enforcement Training Centers (FLETC) National Police Week Candlelight Vigil, Glynco, Georgia, May 13, 2019, in honor of fallen law enforcement agents and officers. (Photo by Brandon Spragins, FLETC PCO)
Join our conversation:
www.facebook.com/fletc
www.twitter.com/FLETC
https://www.flickr.com/photos/99180004@N08/