For Immediate Release
Last week, the Federal Law Enforcement Training Centers (FLETC) delivered the Basic Tactical Medical Instructor Training Program in Charleston, South Carolina to 20 law enforcement officers. Participants consisted of state and local law enforcement officers from police and sheriff departments from the local area. The City of Charleston Police Department hosted the training. 
The head of training for Charleston County Sheriff's Office, Lt. Fletcher Ferguson, said, "The FLETC Tac Med training provided to the Charleston County Sheriff's Office has been excellent. As a result, we are implementing new methods of training Tac Med to our entire agency. We look forward to continuing our relationship with the Charleston FLETC team."
This program teaches law enforcement officers and agents the basic medical evaluation, treatment, and evacuation skills first responders may need to save their lives or the lives of others during an active threat event. It is also designed to qualify participants to serve as field training officers and train their peers to effectively respond to active threat events.  
Since March 2020, FLETC instructors have trained over 159 local law enforcement officers from the Charleston area on tactical medical, active shooter, and firearms training.
Adrian Saldana, a Lead Instructor at FLETC, said "FLETC's partnership with local police agencies is creating force multipliers across the nation. Our relationships with state and local law enforcement (LE) helped, and continue to help, all LE agencies nationwide. Our programs are absolutely saving lives." 
FLETC provides career-long training to law enforcement professionals to help them fulfill their responsibilities safely and proficiently. This includes the distance-learning program eFLETC and the personnel on staff dedicated to supporting the eFLETC mission and FLETC training. Through strategic partnerships, FLETC prepares the federal law enforcement community to safeguard the American people, our homeland, and our values.
To learn more about the FLETC Tactical Medical Instructor Program please visit our website www.fletc.gov.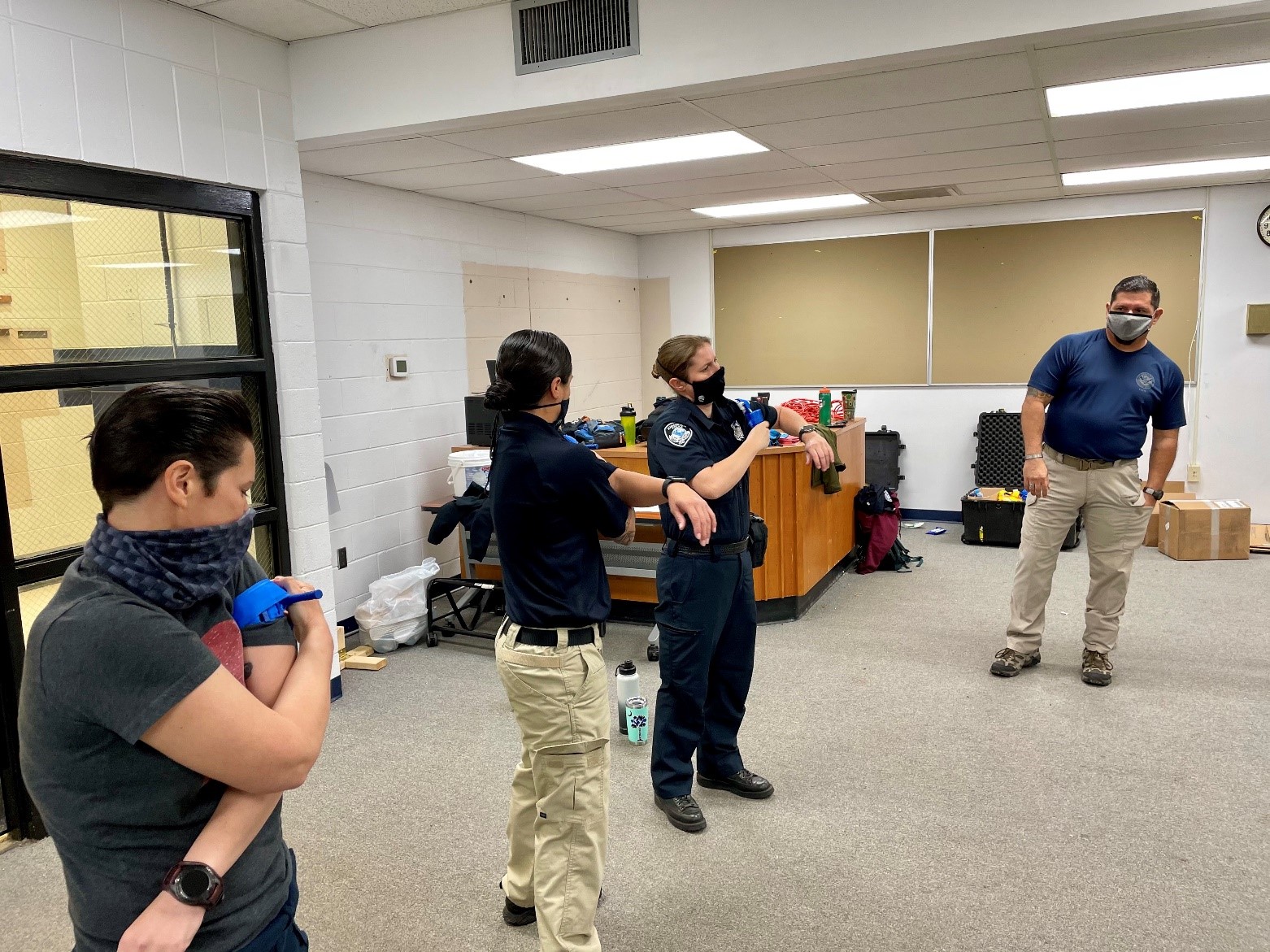 Officers Katherine Kirkland and Aissa Thompson (Summerville PD) and Sgt. Katelyn Labre practice tourniquet applications to their arms with Lead Instructor Adrian Saldana watching closely.
###
---
Federal Law Enforcement Training Centers
Office of Public Affairs
Contact: 912-267-2447