For Immediate Release
ARTESIA, N.M. – On April 12, 2023, the Federal Law Enforcement Training Centers (FLETC) conducted a ribbon cutting ceremony for the opening of a new dormitory at the FLETC-Artesia Training Delivery Point (TDP).  FLETC Director Thomas J. Walters officiated the ceremony.  Also in attendance were Partner Organization representatives from the U.S. Border Patrol, Transportation Security Administration, U.S. Secret Service, and the Bureau of Indian Affairs.
In his remarks, Director Walters stated, "This dormitory is a state-of-the art facility utilizing the latest innovative technology in construction, energy conservation, and information technology. It will provide FLETC a greater capacity to train America's future law enforcement officers." 
The new dorm contains 121 rooms and provides an additional 242 bed spaces for FLETC-Artesia.  FLETC received funding for the project in Fiscal Year 2021 and awarded the contract in February 2021. Construction started in August of the same year, with the project concluding in March 2023.
FLETC opened the Artesia TDP on October 21, 1989.  The original expectation of capacity was 150 students a day.  Over the past 35 years, the Artesia TDP's daily student population has grown tremendously, with the new dormitory expanding FLETC-Artesia's occupancy capability to 1,408 students.
A component of the U.S. Department of Homeland Security, FLETC provides basic and career-long training to law enforcement professionals to help them fulfill their responsibilities safely and proficiently. Through strategic partnerships, FLETC prepares the federal law enforcement community to safeguard the American people, property, and institutions.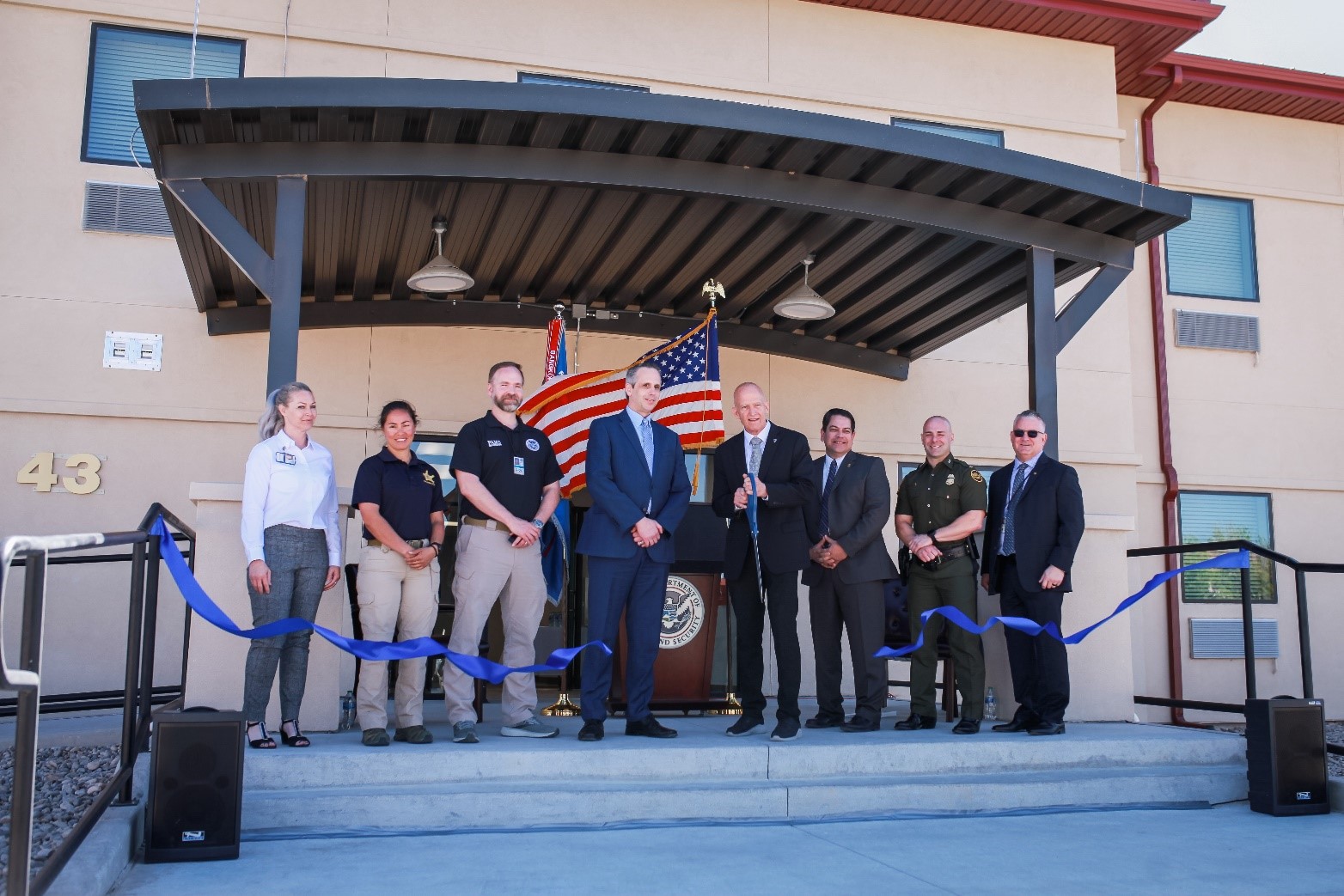 Federal Law Enforcement Training Centers (FLETC) Director Thomas J. Walters cuts the ribbon to officially open a new dormitory at FLETC-Artesia, NM, on April 12, 2023. Pictured left to right, Elizabeth Argo, Division Chief, FLETC-Artesia; Maria Beardsley, Sergeant Technician, US Secret Service Academy; William Frisch, Section Chief, Federal Air Marshal Service; Fred Harpole, Assistant Director, FLETC; Director Walters; Creighton Wade, Deputy Academy Director, Bureau of Indian Affairs; Ryan Landrum, Chief Patrol Agent, US Border Patrol Academy; Joseph Silva, Division Chief, FLETC-Artesia. (photo by Jessica Addington, Artesia Daily Press)
###
---
Federal Law Enforcement Training Centers
Office of Public Affairs
Contact: 912-267-2447