For Immediate Release

GLYNCO, Georgia- Federal Law Enforcement Training Centers (FLETC) Director Thomas J. Walters is pleased to announce the selection of Mr. Kai J. Munshi as FLETC's new Deputy Director.
Deputy Director Munshi is a highly respected leader within the FLETC enterprise and among its 119 partner agencies. Most recently, he served as FLETC's Assistant Director for Technical Training Operations, with responsibility for six law enforcement training divisions, including Investigative Operations; Cyber; Counterterrorism; Behavioral Sciences; State, Local, Tribal, and Territorial Training; and the Leadership Institute. Previously, he served as FLETC's Chief Security Officer, where he oversaw all security, emergency management, administrative inspections, and internal affairs investigative operations across FLETC's four training delivery points. At the outset of the COVID-19 pandemic in the United States, Deputy Director Munshi led FLETC's development and execution of policies and procedures that allowed FLETC to operate safely and effectively in an unprecedented environment across four training delivery points.  
"Deputy Director Munshi is a proven leader who exemplifies FLETC's commitment to preparing our nation's law enforcement to do their jobs in the field.  He has a stellar reputation as an innovative and visionary leader who can be relied upon to effectively lead those charged with training America's current and future guardians," said Director Thomas J. Walters. "Kai has an unwavering spirit and a keen ability to overcome significant challenges as he proved during the height of the COVID-19 pandemic. I'm excited for FLETC because Deputy Director Munshi is a faithful and skilled leader whom I have every confidence will get the job done."   
Deputy Director Munshi began his law enforcement career in August 2002 as a Special Agent in the Denver Field Office of the U.S. Secret Service (USSS), where he led criminal investigations related to counterfeit currency, bank fraud, and other financial crimes. He later served as a member of the USSS Special Operations Division Counter Assault Teams. Following his career with the USSS, Mr. Munshi served as a Senior Special Agent with the Securities and Exchange Commission, Office of Inspector General (OIG), and Department of Justice OIG. He is the recipient of the DOJ IG's Distinguished Service Award in both 2012 and 2014. Mr. Munshi is a veteran of the U.S. Marine Corps where he served honorably for approximately 10 years in both the enlisted and officer ranks. He earned a Bachelor of Arts degree in International Studies from the State University of New York College at Brockport and is a graduate of the Partnership for Public Service Excellence in Government Fellowship program.
As FLETC's Deputy Director, Mr. Munshi oversees all of FLETC's law enforcement training development and delivery operations for 119 federal Partner Organizations, as well as state, local, and international law enforcement nationwide and worldwide. He is also responsible for the oversight of over six million square feet of property on more than 5,000 acres of land located at FLETC's training delivery points in Glynco, GA; Charleston, SC; Cheltenham, MD; and Artesia, NM., as well as all administrative, mission support, financial, and resource management programs. Deputy Director Munshi's leadership and experience will help FLETC remain on the cutting edge of law enforcement training, working collaboratively with its partners, stakeholders, and staff to proactively address the Nation's most challenging law enforcement training issues and deliver world-class training to more than 52,000 law enforcement students per year.
Upon his selection, Deputy Director Munshi said, "Law enforcement is faced with ever-changing and complex challenges. Preparing to operate in this environment necessitates dynamic training that keeps pace with current trends and threats. Our Nation relies upon FLETC and its Partner Organizations to fulfill these requirements. I am honored to continue serving alongside this dedicated team as the FLETC Deputy Director."
A component of the U.S. Department of Homeland Security, FLETC provides basic and career-long training to law enforcement professionals to help them fulfill their responsibilities safely and proficiently. Through strategic partnerships, FLETC prepares the federal law enforcement community to safeguard the American people, property, and institutions.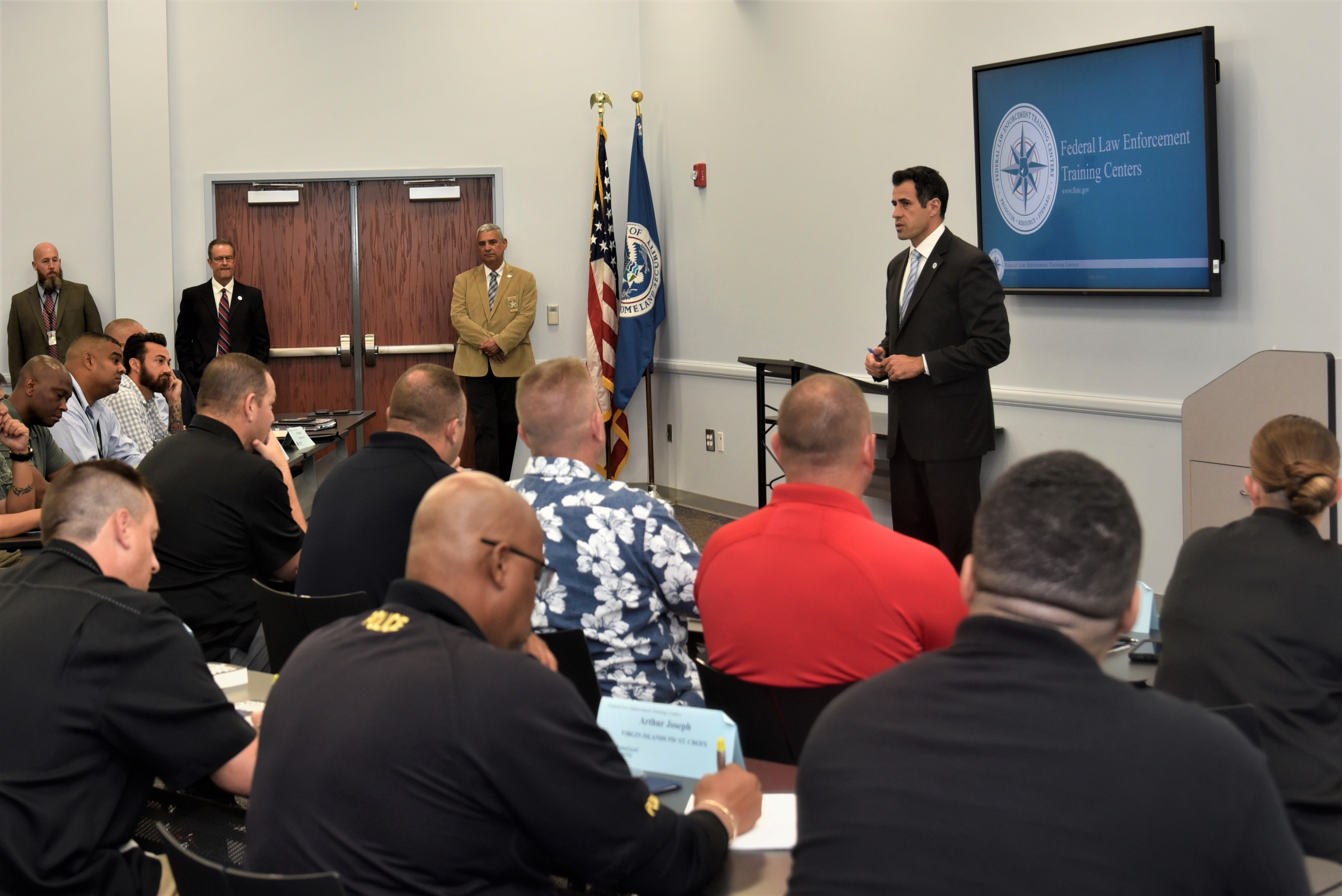 Newly selected Deputy Director Kai Munshi instructs students in leadership principles at the Department of Homeland Security Leadership Academy on September 12, 2022, Glynco, Georgia. (OPA/MSB Brandon Spragins)
###
---
Federal Law Enforcement Training Centers
Office of Public Affairs
Contact: 912-267-2447