For Immediate Release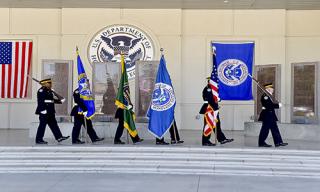 Beginning with the annual Blue Mass and continuing with a memorial service at the U.S. Capitol, National Police Week is a special time for many employees at DHS. This year was no different, as many employees joined Secretary Kelly, Deputy Secretary Duke and other DHS leaders at events honoring those who serve to keep the peace.
The following are some key events and ceremonies that took place during National Police Week 2017:
Federal Protective Services (FPS)
Photo above, NPPD Federal Protective Services hold a wreath-laying event May 12 during National Police Week. (Photo by Barry Bahler/DHS)
FPS began their Police Week activities on May 2 when the FPS Honor Guard participated in the Annual Blue Mass at St. Patrick's Cathedral in Washington, D.C.
On Friday, May 12, NPPD's Senior Official David Hess and FPS Director L. Eric Patterson hosted the FPS Wreath Laying Ceremony at the U.S. Coast Guard Headquarters. Then, later in the day, FPS Director Patterson participated in a memorial service for U.S. Marshal Pat Carothers, a former FPS law enforcement officer fatally shot in the line of duty Nov. 18, 2016. Carothers served as an FPS Supervisory Special Agent, Threat ManagS!atCandlelightSpeaking_forInside2.jpgement Branch chief, and Region 4 Deputy Regional Director before joining the U.S. Marshal Service. He was serving a warrant for the Marshals when he was killed.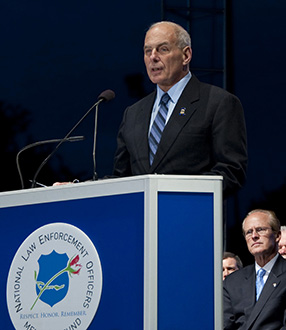 Photo right, Secretary Kelly speaks during the annual Candlelight Vigil held at the Law Enforcement Officers Memorial in Washington, D.C. (Photo by Barry Bahler/DHS)
Members of the FPS Motors Team had a busy time during the May 12-14 weekend, beginning on Friday when
they provided support for the National Police Week Philadelphia-to-D.C. Memorial Run, where a group of runners started a three-day, 142-mile trek to Washington, D.C., in honor fallen police officers. 
Immigration and Customs Enforcement (ICE)
This year's National Police Week holds special significance for ICE, as the agency is honoring the life and service of two fallen heroes: Homeland Security Investigations Special Agent J. Scott McGuire and Enforcement and Removal Operations Deportation Officer Brian P. Beliso.  Special Agent McGuire tragically lost his life on Jan. 24, 2016, following injuries sustained in a hit-and-run accident in Miami Beach, Florida. Deportation Officer Brian P. Beliso died while on duty and deployed as part of an ERO fugitive operations team. Both men were honored at private family events and at the ICE Police Week Ceremony on May 12 at ICE headquarters in Washington, D.C.
Photo above, A number of employees from ICE participated in the Honor Ride from New Orleans to Washington to honor and raise funds  for fallen peace officers. (Photo courtesy of ICE)
From April 30 to May 12, HSI Tampa Special Agent Ellen Pierson participated in a memorial bike ride to pay tribute to law enforcement officers killed in the line of duty, and the families they left behind. The first leg of the trip, the Honor Roll, began in New Orleans, Louisiana. The seven-day journey covered more than 700 miles and took Pierson and the approximately 20 riders with her along the Natchez Trace Parkway arriving Nashville, Tennessee.
On May 10, Pierson joined the Law Enforcement United Ruff Ride in Cumberland, Maryland, to honor fallen K-9 officers as they made their way to the National Law Enforcement Officers Memorial. The Office of Public Affairs provided daily updates on her progress as she made her way to Washington, D.C. Additional information about these events can be found on this
ICE intranet page
.
Federal Law Enforcement Training Centers (FLETC)
FLETC held its 32nd annual ceremony on May 2, 2017, honoring those FLETC graduates who lost their lives in the performance of duty. Approximately 300 FLETC and Partner Organizations staff, community members, congressional staffers, students and family members attended the morning ceremony.
Photo above, the Federal Law Enforcement Training Centers Honor Guard carries U.S. and fallen officer agency flags during Peace Officers Memorial Day Ceremony held, May 2, 2017.  (Photo by David Tucker/FLETC)
This year, seven names were engraved upon the FLETC Graduates Memorial, bringing the total to 219 since the establishment of FLETC in 1970. Those honored were CBP Agents Manuel A. Alvarez, Jose D. Barraza, and David Gomez; ICE Agents Jeremy S. McGuire and Officer Brian P. Beliso and; and U.S. Marshals Service Deputy Commander Patrick T. Carothers.
The FLETC center in Cheltenham, Maryland, hosted a Concerns of Police Survivors (COPS) event May 16th for the children of law enforcement officers who lost their lives in the line of duty. While the first part of the day was dedicated to small group counseling sessions, after lunch the children had the opportunity to observe training, interact with law enforcement officers, and take part in various demonstrations and activities.
Photo above, U.S. Border Patrol Agent participates in Candlelight Vigil during National Police Week (Photo by Barry Bahler/DHS)
On May 20, FLETC is holding its first ever Peace Officer Memorial Day Run/Walk at the FLETC headquarters in Glynco, Georgia. More than 150 FLETC and Partner Organization students, staff and family members have signed up to participate in this event, which marks the end of police week and is meant to honor those who have made the ultimate sacrifice in the line of duty, with an emphasis on those we've lost this year.
Customs and Border Protection (CBP)
U.S. Secret Service (USSS)
On Tuesday, May 2, the Secret Service Uniformed Division Honor Guard presented the colors during the Blue Mass at St. Patrick's. The family of fallen Special Agent James Collins visited Secret Service headquarters and visited with Director Randolph Alles. On May 16, instructors at the James J. Rowley Training Center volunteered their time to host 25 children from COPS for Teens. The teens took part in counseling sessions, lunch and demonstrations of Secret Service capabilities and training. The Secret Service also held its Wall of Honor ceremony on May 18.