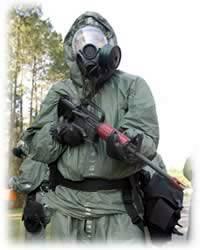 The design, development and delivery of high-quality training courses and programs relating to Terrorism Methodology, Threat Response, Threat Mitigation and Infrastructure Protection is the primary mission of the Counterterrorism Division (CTD).  The CTD also operates a specialized antiterrorism/physical security training facility to demonstrate and validate state-of-the-art hardware and provide students with a hands-on laboratory environment. 
Classroom lecture, reinforced through various training aids, laboratory exercises, and practical exercises ensure students a meaningful learning experience. Courses taught by the CTD staff in the Center's basic training programs include: Terrorism, Bombs and Explosives, First Response, Weapons of Mass Destruction and Hazardous Materials, Physical Security, Weapons/Explosives Detection, Aircraft Countermeasures, Operations Security, and Man-Portable Air Defense Systems. 
In addition to basic courses, the CTD also offers Advanced Training Programs to enhance the knowledge and abilities of today's law enforcement professionals, with the goal of enhancing their overall effectiveness in an "all hazards" environment.
The CTD is also involved with the continued development and operation of several facilities designed and built to assist law enforcement with combating the terrorist threat. Additionally, these multi-venue facilities provides today's law enforcement officers access to training resources never before available at the FLETC, allowing students to train on advanced and specialized skills necessary for engaging in high-risk operations for today's dangerous world.
Counterterrorism Division
Federal Law Enforcement Training Center
1131 Chapel Crossing Road
CTD / TH391 - ATTN: Training Technician
Glynco, GA 31524
E-Mail: FLETC-CounterterrorismDivision@dhs.gov
Phone: (912) 267-3513
FAX: (912) 267-3144
Course Cost
This amount includes tuition, meals, lodging, and miscellaneous costs. This is a high-end estimate based upon the maximum possible lodging expenses if the class is housed off-Center in a hotel. If the class is housed on-Center in a dormitory, the lodging cost may be lower.
Billing
Your agency will be billed approximately 30 – 45 days after completion of the program. Please do not mail or bring a check with you to the training program, as the exact amount due will not be available until after completion of the training.
Registration
Upon arrival at the FLETC, please register at the front gate, Building 1 (Visitors Center). The staff at Registration will issue an identification badge, class package, and lodging information upon your arrival. Please complete the registration form and present two copies when you register at Building 1. This will expedite the registration process and can greatly reduce your wait time at check-in.
Transportation
All students traveling to the Center, including those driving, must call the Transportation Office, commercial (912) 267-2458 as soon as transportation plans are firm and NO LATER THAN FIVE (5) WORKING DAYS PRIOR to class commencement to advise time and place of arrival. This information will confirm the program dates, and will schedule, if needed, appropriate ground transportation between commercial terminals and the Center. STUDENTS WHO DO NOT CALL WILL NOT BE GUARANTEED TRANSPORTATION. Transportation from the airport in Brunswick, Georgia is available at any time. Please be sure to contact Transportation prior to your arrival if you need transportation from any of these airports – transportation is not guaranteed unless you make prior arrangements with the Transportation office.
Cancellation
Please confirm that you plan to attend this training. It is FLETC policy to charge full tuition for participants who do not attend scheduled training and who do not notify us within 20 working days before the scheduled training date. If you cannot attend, it is essential that you notify CTD via email at Fletc-CounterterrorismDivision@dhs.gov immediately. A cancellation number will be issued for your records. The circumstances of cancellations received in this office too late to refill the training space will be considered by the FLETC on a case-by-case basis for payment or nonpayment.
Dress
Appropriate attire will consist of relaxed office or dress apparel (shirts must have a collar) as dictated by the activities of the course. Jogging suits, jeans, tee-shirts, shorts, tank tops, flip-flops, and similar leisure wear are not authorized for training use; denim jeans are acceptable only in lab or field exercises calling for rough wear or exposure to soil, chemicals, etc. In some advanced programs, students will receive FLETC or agency issued uniforms, which will be worn in accordance with FLETC regulations. The wearing of the FLETC issued training uniform, including those articles associated with physical training, is NOT authorized off- Center.
FLETC Information
Please visit the FLETC Student Bulletin. The bulletin provides detailed information about the FLETC and will assist you with making travel arrangements, as well as provide other pertinent information.