For Immediate Release
On Tuesday, April 27, 2021, Federal Law Enforcement Training Centers (FLETC) Assistant Director (AD) Darren Cruzan's profession came full circle as he returned to where his federal career began.

Cruzan, set to retire in late May from federal service, was the keynote speaker at the recent graduation ceremony of the Indian Country Police Officers Training Program. The graduation took place at the FLETC-Artesia Training Delivery Point, where Cruzan had been a student in 1996 as a member of United States Indian Police Academy (IPA) Class 74. The class he had come to speak to was Class 174. Full Circle.

The desire to join the law enforcement profession was instilled in Cruzan at a young age. When he was 19 years old, his father was attending a Citizen's Police Academy and asked his son if he would join him. "Something happened to me that night, and I knew this was what I wanted to do. I really liked that when there was a "problem", or someone needed help, I was one of the people they called," said Cruzan.

Cruzan began his law enforcement journey in 1992 at Missouri Southern State University Police Academy. He then became a Reserve Police Officer in Joplin, Mo., and was subsequently hired by the Nevada, Missouri Police Department on April 19, 1993.

In 1995, he was hired by the Miami Tribe of Oklahoma as the first Miami Tribal Police Officer. He was required to attend the U.S. IPA in Artesia, and later had the opportunity to serve as a Training Sergeant at the IPA. "I loved every minute of my FLETC time as a student and instructor and always knew I wanted to be a part of FLETC. I was willing to serve in any role from the executive team to being a role player," said Cruzan.

Following retirement, Cruzan will focus on his law enforcement consulting business, "The Cruzan Group," with other respected former high-level government officials. Cruzan said, "I am very excited to see where that goes. There has never been a greater need for law enforcement leaders to show up and to make a difference."

When addressing the graduating class at FLETC-Artesia, Cruzan shared advice from a friend of his, Mike Cutone, who is a retired Massachusetts State Trooper.

"Mike recently told me that if he could go back and give advice to his 21-year-old self he would say:
 
Don't let this job steal from you your humanity. What police officers see day in and day out is tough, and often the worst in people. Over time, that can cause you to lose empathy for people…you've got to watch out for that. If you lose your passion for this profession, find a way out or find a way back.
 
Hold tight to your faith, you are going to need that."Cruzan's retirement ceremony will be held virtually on May 21, 2021, at 3:00 pm. (Link will be forthcoming).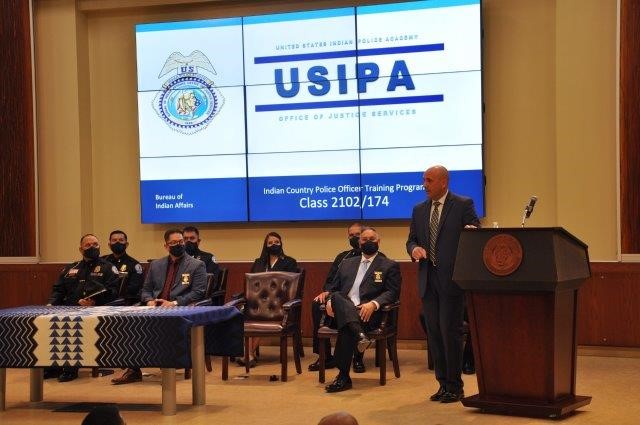 Assistant Director Cruzan addresses United States Indian Police Academy (IPA) Class 174 at FLETC-Artesia on April 27, 2021. (FLETC Artesia/Kodi Owens)
 
###
---
Federal Law Enforcement Training Centers
Office of Public Affairs
Contact: 912-267-2447