For Immediate Release
"They gave of themselves to make life better for all."
Such was the sentiment expressed virtually by the Secretary of the Department of Homeland Security, Alejandro N. Mayorkas, during the annual Federal Law Enforcement Training Centers (FLETC) Graduates Memorial Ceremony, Monday, May 2 at Glynco, Georgia.
The annual event honors FLETC basic training graduates who have died during their law enforcement careers in the line of duty. This ceremony paid homage to 46 graduates from the Pentagon Force Protection Agency, Transportation Security Administration, United States Capitol Police, United States Customs and Border Protection, United States Immigration and Customs Enforcement, and the United States Marshals Service.
"Law enforcement is a noble profession," Secretary Mayorkas said in his comments., "We can feel proud in who they were, and they will always be with us in this everlasting legacy of their heroism."
 Like Secretary Mayorkas, FLETC Director Thomas J. Walters personally addressed attendees. 
"Many of us who witness this ceremony today have a personal connection with the souls whose names are on the memorial. Some of those honored souls were academy classmates of ours or assigned to the same office, or the same unit, or were close friends, or were family members," Walters said.
With a special message to the families, Director Walters said, "We recognize and appreciate 
that the loss you experienced is intensely personal, but you should also know that everyone who has ever carried the badge or supported the training of those officers, appreciates and will always appreciate the great gift that our brothers and sister officers, your loved ones, have given to all of us."
Yogananda D. Pittman, Assistant Chief of Police for the United States Capitol Police, was among those present to read the names of fallen officers William F. Evans and Brian D. Sicknick, along with other names. 
"I knew Evans and Sicknick personally," Chief Pittman said. "I had to make the notification to both of their mothers. Being here for this event means everything to me, to be here to represent my Chief Tom Manger, and all the others who walked and worked with our fallen."
Attending one of his last official events before he retires from federal service, FLETC Deputy Director William Fallon reflected upon the ceremony. 
"It's very important to pay respects to the families and the agencies who have suffered such losses," Fallon said. When asked how this ceremony is a perspective to him, he said, "Many of these officers are former students, partners, even friends whom I have known in my career. Even though I may be moving on from my position at FLETC, it's my intention to continue to attend and recognize with FLETC their memories."
Rose Panides-Kaiser, mother of  Jason Panides, was in attendance for the ceremony. Her son died in 2001 and his name is etched upon the FLETC Graduates Memorial Wall. "It's important to remember their sacrifice," Rose said. "Though we have to continue to live our lives every day, being here for this is a continuing healing time, and it's good to know that he is not forgotten."
Watching the Advance Preparations
Preparing the names to be added to the wall is a time-honored tradition. 
Jason Worth, a stone engraver, took on the solemn task this year. "It means a lot for the families and friends, and I am proud to do it," Worth said. Using nearly five bags of finely ground granite, as fine as a grain of salt, Worth prepared the monuments for the 46 additions weeks in advance of the ceremony.
Present for the name addition and engraving of fallen officer Shawn Paul Hennessee was Billy Williams, section chief for the Federal Air Marshal Counter Terrorism Division located at FLETC. "We don't have a huge agency as it is so we are like family. Shawn was one of our early hires and I knew him well," Williams said.
Sergeant Kyle King of the United States Capitol Police was present for the addition of Officer William F. Evans' name.  "I was a personal friend of his and I am here in a role for the family," King said. "I have known him since we were both five-years-old in Massachusetts."
Site Director for the Pentagon Force Protection Agency Joseph Stolinski saw the name of fallen officer George Gonzalez engraved onto the wall. "It's hard to go back and not see him in the training venues," Stolinski said.

Secretary of Homeland Security, Alejandro Mayorka, delivered the keynotes address for the Federal Law Enforcement Training Centers Graduate Memorial Ceremony held on May 2, 2022, at Glynco, Georgia. (FLETC OPA / Mindy Vu)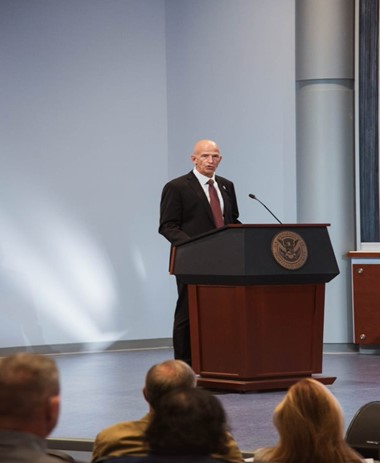 Federal Law Enforcement Training Centers (FLETC), Director Thomas J. Walters paid tribute to the fallen at the FLETC Graduate Memorial Ceremony on May 2, 2022, at Glynco, Georgia. (FLETC OPA / Mindy Vu)
###
---
Federal Law Enforcement Training Centers
Office of Public Affairs
Contact: 912-267-2447