The Air Force Office of Special Investigations (AFOSI) serves as the United States Air Force's only agency capable of executing criminal investigations and Counterintelligence (CI) services across the full spectrum of conflict and within any domain. AFOSI is charged with autonomous, timely, and unbiased investigative responsibilities to defend the nation, serve justice, protect the Air Force, and find the truth.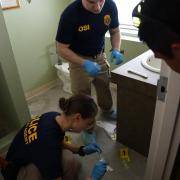 The unique military-civilian composition postures AFOSI to engage and work with the full array of foreign and domestic law enforcement (LE), CI, and security agencies including civilian, military, and paramilitary mission partners.
Supporting AFOSI in meeting its mission goals, the United States Air Force Special Investigations Academy (USAFSIA) at the Federal Law Enforcement Training Centers (FLETC), Glynco training delivery point strives to provide world-class investigative training and education. USAFSIA meets its goals through its use of in-residence, distance learning training, and professional development to produce and enhance specialized investigative and counter-threat capabilities for the Air Force. 
USAFSI's tradition of providing flexible, responsive training in support of AFOSI's responsibility to defend the nation, serve justice, protect the Air Force and find the truth remains strong. AFOSI's sixteen-year partnership with FLETC has afforded the command access to unmatched facilities and expert instructors, and opportunities for enhanced training in the future through joint initiatives with FLETC and its over 90 federal law enforcement partner organizations.
###
---
Federal Law Enforcement Training Centers
Protocol & Communications Office
Contact: 912-267-2447