GLYNCO, GEORGIA – Federal Law Enforcement Training Centers (FLETC) officials in Glynco, Georgia, and Charleston, South Carolina, have outlined the recovery efforts at the training facilities resulting from the effects of Hurricane Matthew.
Hurricane Matthew brought damaging Category 2 strength winds, heavy rains and flooding at both of the training facilities in the Southeastern United States last Friday and Saturday, but the FLETC was already preparing for the worst by enacting emergency action plans and coordinating with local emergency management agencies.
FLETC officials advised partner organization staff and students of the oncoming storm earlier in the week and both locations began evacuating students and staff on Wednesday night, October 5, 2016.  Both locations closed beginning Thursday morning, October 6, 2016.  At FLETC Glynco, more than 1,500 students were evacuated by their agencies.  The remaining 76 students from Glynco were evacuated to a preplanned inland evacuation site in central Georgia.
Once the storm had passed, FLETC team members quickly went to work to evaluate the damage to the sites and began recovery efforts.  FLETC Glynco was used as a staging center for first responders in support of hurricane recovery efforts for all of southeastern Georgia and northeastern Florida. Georgia Power established a base camp for operation on site for over 900 workers.  Approximately 100 Georgia National and Air National Guardsmen and 35 American Red Cross workers were able to stay in the Glynco empty dormitories.
Both sites had to cancel training indefinitely until training venues and lodging facilities are repaired. According to Director Connie Patrick, the FLETC Charleston training site should be able to start back training earlier than FLETC Glynco.  The timeline for students returning to training at the FLETC Glynco site is complicated by the loss of several large dormitories that were flooded.  In addition, the damage from fallen trees, and water penetration into training venues and office buildings are still being assessed. "Getting training back online is our priority, and we are putting every effort to get that done in a timely manner," said Patrick.
Director Patrick thanked the staff and all of the partner agencies for their support during the past several days. "I know each of you were affected personally in some way by this storm, and your efforts in surveying damage, providing critical information, and cleanup endeavors have made a tremendous difference to our first responders, our partner organizations, and our students."
The FLETC trains the majority of federal officers and agents in the United States. In addition to providing training for more than 90 federal partner organizations, FLETC also provides training to state, local, tribal and international police in selected advanced programs; graduates approximately 70,000 students annually and is the largest law enforcement training organization in the country.
To learn more about FLETC, please visit www.fletc.gov, @FLETC1 on Twitter, and FLETC Headquarters on Facebook.
PHOTOS (all photos were taken at the FLETC Glynco site – more photos are located on the FLETC Headquarters site on Facebook):
Hurricane force winds damaged the awning of the FLETC Glynco graduation facility.
Hurricane Matthew caused damage to FLETC major flooding at the FLETC Glynco primary dormatories.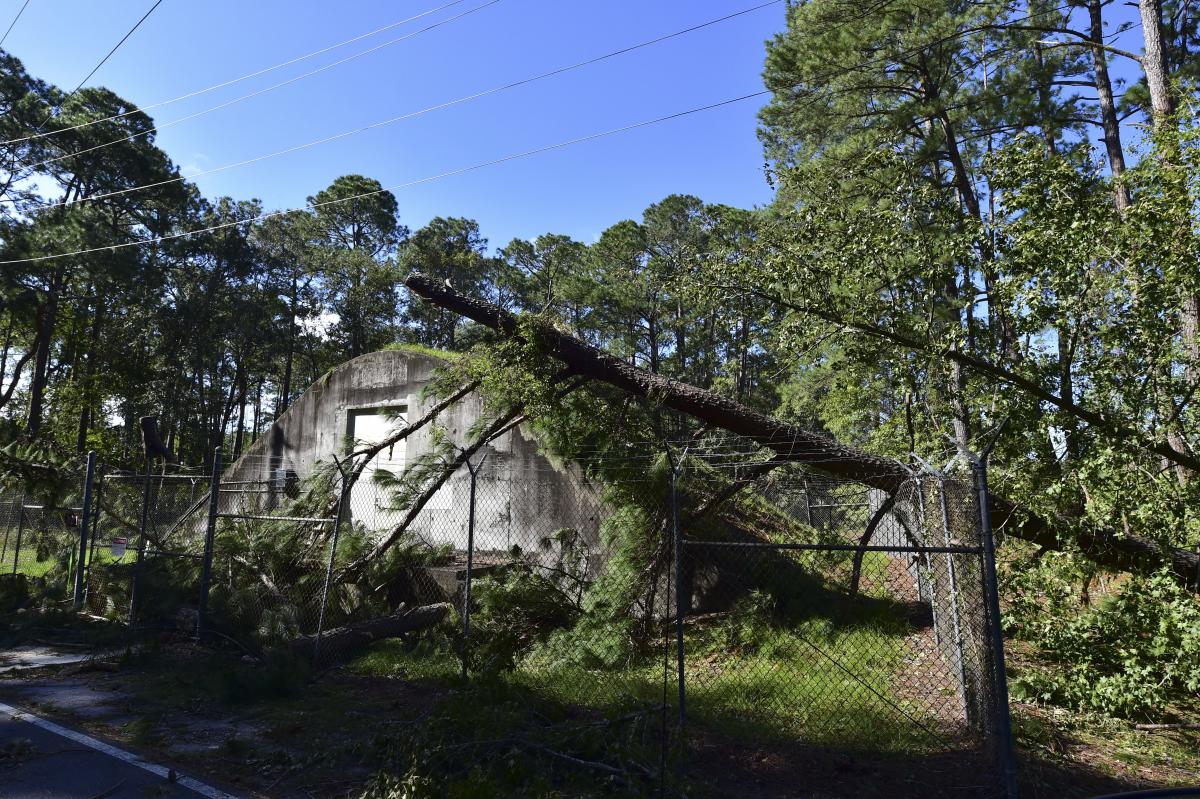 The FLETC Ammunition Bunkers weather numerous fallen trees due to Hurricane Matthew.
Hurricane Matthew causes extensive flooding at Danis City -- FLETC's urban and surburban training venue.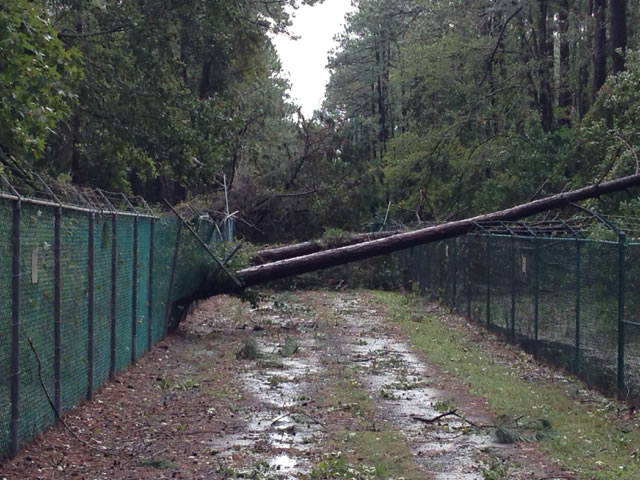 Fallen trees caused damage across the FLETC Glynco training site.
###
---
Federal Law Enforcement Training Centers
Protocol & Communications Office
Contact: 912-267-2447