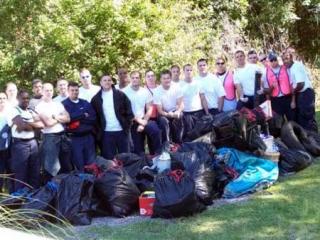 Students from the Federal Law Enforcement Training Center's Uniform Police Training Class 606 spent a treasured Saturday afternoon cleaning up a section of Brunswick's highway. 
More than 20 Uniformed Secret Service trainees poked through the brush and marsh, collecting 60 50-gallon bags worth of trash from the two-mile section of Highway 17, according to Marsha Smith, project coordinator for Keep Brunswick-Golden Isles Beautiful. 
"The amount of trash really made an impression on the students," said Class Leader Aaron Buehler.  Students' collected plastic bottles, cans, a tire, a bicycle, coolers, and, even, a television, said Buehler. 
"The clean up effort is part of a Secret Service tradition of performing community service projects," stated Buehler.  The class was looking for an appropriate project and the community was looking for a helping hand.  
"I was thrilled to have their participation," said Smith.  "I hope to build on the participation from this class to lead to more training classes' involvement in the future."
The Keep Brunswick-Golden Isles Beautiful community group organizes cleanup projects throughout the year.