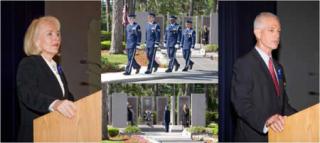 The Federal Law Enforcement Training Center (FLETC) held its 23nd annual ceremony Tuesday, May 13, honoring those FLETC graduates who lost their lives in the performance of duty. The ceremony was a joint observance with other area law enforcement agencies in southeast Georgia, including the Brunswick Police Department, Glynn County Police Department and Sheriff's Office, Georgia State Patrol and Georgia Department of Natural Resources.
The keynote speaker was FLETC Director Connie L. Patrick. Director Patrick spoke of the noble and selfless acts of service these fallen officers performed. She recognized the dedication of law enforcement officers and their mission to protect our nation and serve its people. On behalf of FLETC, Director Patrick pledged, "…to remain vigilant in providing the best possible training for men and women on the front lines."
The ceremony included the reading of the FLETC graduates honor roll of names by FLETC Deputy Director D. Kenneth Keene. Georgia Department of Natural Resources Ranger Mark Carson read the State and Local agencies honor roll. In addition to the reading of the honor roll, vocal presentations, posting of the Colors, a ceremonial wreath laying, lowering of flags to half staff; and the playing of Taps were included in the program. FLETC staff, representatives from the agencies with fallen officers in 2007, and the Moody Air Force Base Honor Guard participated in this solemn ceremony.
The FLETC Graduates Memorial consists of nine granite panels for engraving the names of our fallen comrades. Sadly, with the addition of fourteen graduates this year, there are now 166 names on our Memorial. This year's honorees are:
Kimberly Place, a Special Agent with the Bureau of Alcohol, Tobacco, Firearms and Explosives, tragically killed in a two-car accident returning from an enforcement operation. A speeding driver lost control of his car and struck Special Agent Place's car head-on.
Eric Cabral, a U.S. Border Patrol Agent who died from a cardiac arrest while tracking a group of illegal aliens.
Ramon Nevarez, Jr. and David J. Tourscher, U. S. Border Patrol Agents who died while on patrol duty as a result of injuries sustained in a single-car accident that occurred near Cotton City, New Mexico.
Richard Goldstein, a U. S. Border Patrol Agent was found dead in a nearby canal after hours of search and rescue operations once he was reported missing from his service vehicle.
Clinton B. Thrasher, Julio E. Baray and Robert F. Smith, U. S. Customs and Border Protection Air Interdiction Agents were all killed in aircraft accidents.
Ryan Balmer, Matthew Kuglics, David Wieger, and Nathan Schuldheiss of the U.S. Air Force Office of Special Investigations were Special Agents tragically killed when their vehicles were struck by roadside IEDs.
Bucky Burke, Deputy U.S. Marshal, suffered a fatal heart attack while completing a class run at FLETC-Glynco. He had just completed a scenario exercise before starting the run.
Lorenzo R. Gomez, Immigration and Customs Enforcement Agent succumbed to internal injuries sustained the previous day after being hospitalized for collapsing during a training activity. Although Agent Gomez actually died in 2003, his name was added to the memorial this year as it was only recently discovered as a line-of-duty death.
"Each of the individuals whose names were added to the FLETC memorial today clearly made a difference. They made a difference in every life they touched and in the hearts and minds of all of us. They were dedicated professionals who did their jobs with pride and distinction, representing the best our nation has to offer, stated Director Patrick.
For further information and a full listing of the FLETC Graduate Memorial, visit http://www.fletc.gov/about-fletc/fletc-graduates-memorial/.