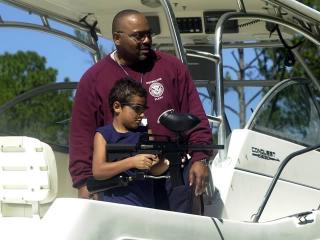 The 2006 FLETC Fun-Shoot held on Saturday, Oct. 28 was a huge success. Employees from both FLETC and Partner Organizations, along with many families, enjoyed a full day of shooting paintballs, viewing exhibitions and firearm displays and seeing firearms demonstrations by expert instructors.
Although most of the volunteers came from the FLETC Firearms Division, other volunteers included team members from the Driver Marine Division, Facilities Branch, and Bureau of Prisons.
The entrance fee of $10 per person, $20 per family, also included hot dogs, hamburgers, beans and drinks.
The more than $1,000 raised will be donated to this year's Combined Federal Campaign.