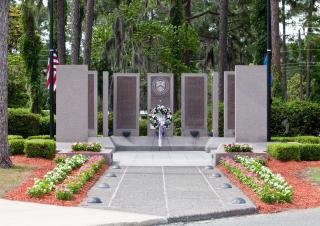 The Federal Law Enforcement Training Center (FLETC) held its 25th annual Peace Officers Memorial Day ceremony May 26 to honor those FLETC graduates who have lost their lives in the performance of duty. The ceremony is a joint observance with other area law enforcement agencies in southeast Georgia, including the Brunswick Police Department, Glynn County Police Department and Sheriff's Office and the Georgia State Patrol. 
The keynote speaker was Roberto Correa, Deputy Chief Patrol Agent, U.S. Customs and Border Protection, Office of Training and Development. "The FLETC Peace Officers Memorial…helps our newest members of law enforcement…to establish a lasting connection with the past and the sacrifices made by all fallen officers and agents," said Correa. "This connection will help provide them with a deeper understanding of what it means to be a law enforcement officer."
FLETC Deputy Director Ken Keene introduced Chief Correa and welcomed the full auditorium to the solemn ceremony. "All of the men and women whose names we will call today answered a higher calling; they are the thin blue line," said Keene. "They laid down their lives to protect our freedoms and the way of life we all cherish."
The ceremony included the reading of the FLETC graduates' honor roll of names by Assistant Director Michael Hanneld. Captain Stephen Adams, Law Enforcement Section, Georgia Department of Natural Resources Wildlife Resources Division, read the State and Local agencies honor roll of 40 names from area law enforcement agencies. In addition to the reading of the honor roll, the program included vocal presentations and the playing of Taps.
This year, two names were added to the memorial, bringing the total to 172 since the FLETC's creation in 1970. Cruz C. McGuire and Robert W. Rosas, Jr., both of the U.S. Customs and Border Protection, Border Patrol, were honored during this year's ceremony. For more information and a full listing of the FLETC Graduate Memorial, visit http://www.fletc.gov/about-fletc/fletc-graduates-memorial/ .