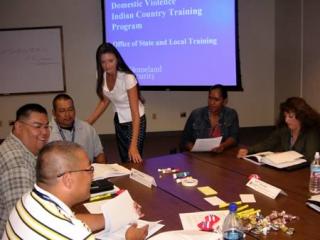 The Office of State and Local
Training (OSL) delivered the Domestic Violence in Indian Country
Training Program in Phoenix, AZ this week. The training was hosted by
and at the Arizona Peace Officers Standards and Training (POST) and
topics included:
Dynamics of Domestic Violence
Officer and Victim Safety 
Legal Issues
Evidence Based Prosecution
Strangulation, Stalking, and Sexual Assault
Interviewing
The
Office of State and Local Training recognizes, and through sustained
collaboration with the Office of Violence Against Women (OVW),
addresses the staggering statistics relative to violence against Native
American women in the United States.
The rate of violent
crime victimization among American Indian females (86 per 1, 000) is
reported to be 2.5 times the rate for all females. The victimization
rate among American Indian females is reported as higher than that
found among Black females (46 per 1,000 ages 12 or older) as
approximately 2.5 times higher than among Caucasian females (34) and 5
times that of Asian females (17). [USDOJ, A BJS Statistical Profile
1992-2002, American Indians and Crime]
Through a
partnership and funding provided by the OVW, the Domestic Violence
Indian Country Training Program (DVICTP) is presented throughout the
United States. The DVICTP three-day program provides participants with
a fundamental understanding of domestic violence in Indian Country and
the basic skills necessary to promote victim safety, effective
responses and batterer accountability. This tuition-free program is
designed specifically for tribal, federal, state, local and campus law
enforcement, or criminal justice personnel and domestic violence
professionals working in and or adjacent to tribal jurisdictions.
The
DVICTP is enriched by Native culture woven throughout the curriculum
and promulgates the tenets that we are all relatives and that women are
sacred.