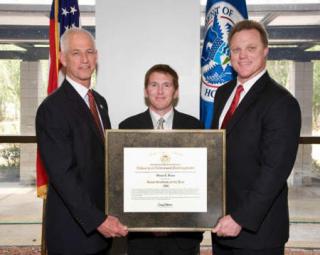 The FLETC presented its
"Honor Graduate of the Year" Award for 2006 to Diplomatic Security Service
Special Agent Shane L. Dixon. This award is presented annually to the FLETC
basic training honor graduate having the highest academic average.

Special Agent Dixon graduated from FLETC's
Criminal Investigator Training Program on August 29, 2006, achieving a 98.10
percent academic average. There were 3,944 eligible basic training graduates
during 2006. Dixon also excelled at firearms qualification
and physical fitness. At a luncheon in his honor at the FLETC's headquarters facility, he was recognized for his
accomplishments.
Guest speaker for the event was Mr. Mark Hunter, Assistant Director
for Training, Diplomatic Security Service, U.S.
Department of State.
"As the law enforcement and security arm of the
Department of State, the Bureau of Diplomatic Security (DS) has Special Agents
assigned in 159 foreign countries and 25 U.S. cities. The
basic criminal investigator training provided by FLETC provides our agents with
the foundation for their careers starting with investigating visa and passport
fraud, domestic and overseas protection, and managing embassy security programs
overseas," said Hunter. "FLETC and DS have a long and fruitful history of more
than 20 years of working together. We are not the largest agency in terms of the
number of students who pass through FLETC, but in terms of quality, our students
rank among the very top. That is, in large part, a testimony to the fine,
quality training FLETC provides."
This is the second year in a row
that a Diplomatic Security Service trainee has won this prestigious award. Past
recipients of the FLETC Honor Graduate of the Year Award have included officers
and agents with the U.S. Customs and Border Protection, National Park Service,
U.S. Capitol Police, Department of Housing and Urban Development, Defense
Criminal Investigative Service, General Services Administration, Department of
State, U.S. Secret Service, and the U.S. Coast Guard.
"Special Agent Dixon is joining
the ranks of an elite group of law enforcement professional," said FLETC
Director Connie Patrick. "By excelling during training at FLETC, the men and
women who received this award demonstrated their strong commitment to serve and
protect our nation."
Special Agent Dixon earned a Bachelors of Science degree
in Sociology and an Associates of Science degree in Criminal Justice from the
Tennessee
Tech University.
Prior to enlisting with the
Diplomatic Security Service, the Tennessee native worked as a Wilson County
(TN) Deputy Sheriff, a Senior Intelligence Specialist with the Justice
Department's Regional Organized Crime Information Center (ROCIC), and a Special
Agent for the Department of Energy. Special Agent Dixon also served four years
in the United States Marine Corps.
In addition to his current
position with the DSS in Los Angeles Field Office, CA; he also served details in
Afghanistan. He will deploy to the
Côte
d'Ivoire this year.