The FLETC Online Campus has Moved to HSIN
The Federal Law Enforcement Training Centers (FLETC) online training (Online Campus) has moved to the Homeland Security Information Network (HSIN).
FLETC has partnered with the Regional Information Sharing System (RISS.net); a Department of Justice funded Law Enforcement verification organization.  In order to access the FLETC law enforcement training material you will need to have an account with RISS (to verify law enforcement and law enforcement support) and an account with the Homeland Security Information Network HSIN.  Follow the instructions below to acquire one or the other or both.  We are working hard to make this streamlined and ultimately a "Single Sign On" for option for you to get to our material. 
I already have both a RISS & HSIN Account
If you already have a HSIN account, click here: https://learn.dhs.gov You will be directed to the HSIN homepage (via Abobe Connect) where you will login.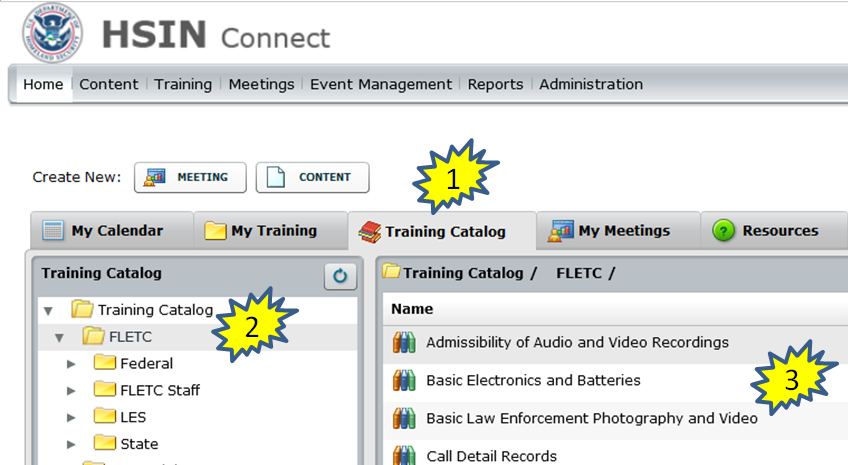 Once you are logged in:
Select "Training Catalog", then the FLETC tab.
Select the "FLETC" folder.
Select your topic.
NOTE: If you are unable to access the HSIN Training Catalogue, send an email requesting access to the FLETC-Learningportalhelp@fletc.dhs.gov. Once access is granted a notification email will be sent to you.
I already have a RISS account, but I need a HSIN account:
If you don't have a HSIN account, click here to submit (first name, MI, last name and email address).
The FLETC Staff will nominate you for a HSIN account.
Upon nomination you will receive an email with a unique link that will prompt you to complete your registration.
Once you have received confirmation of your account, please follow the steps under "Current HSIN Users" below.
Helpful HSIN Account Request Information: HSIN Quick Reference Guide
I have neither a RISS nor HSIN Account
If you do not have a RISS or HSIN account, please start here:  https://www.riss.net/Default/FAQ.